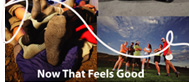 SmartWool was born with comfortable performance in mind. The founders were New England ski instructors struggling to keep their feet warm. After trying a variety of materials, they rediscovered an age-old classic: wool. But while these socks may have been warm, they were itchy and shrank. So they worked on a process to make them soft and easy care. SmartWool was born on a simple tenet: keeping feet comfortable on the slopes. But it was a hard sell. Try as they might, they couldn't initially convince others of the material's merits. No one believed that a wool sock could be anything but itchy. Out of frustration, they finally challenged people to try them. This simple tactic changed the course of SmartWool forever and pioneered a new market transformation for wool performance products. The instant people tried them they were awestruck with SmartWool's soft luxurious feel. They were even more surprised that their feet stayed comfortable for extended periods of time in mixed weather conditions. Instead of getting clammy, the SmartWool socks stayed dry, soft and comfortable. The founders then realized that they had to get their socks on as many people as possible to let them speak for themselves.

Award after award catapulted SmartWool's Extraordinary Comfort onto more and more feet and bodies. And a funny thing happened once people started trying SmartWool; word about their comfort and performance spread like wildfire. Fueling this was the company's commitment to using only the finest wool in the world; New Zealand merino, which produce the softest, strongest and whitest wool on the planet. The company has built intimate, long-standing relationships with its growers, who are in tune with their land and sheep and have become great partners in growing the best wool possible.The next step was obvious. Since people enjoyed SmartWool's comfort in its performance socks and base layers, why not make socks they can wear all the time. Since hiking socks don't go well with dress slacks, SmartWool launched its everyday use lifestyle in 2004, bringing extraordinary comfort to daily life with fun, fashionable designs. Both socks and apparel now enjoy worldwide distribution, satisfying the needs of walkers, runners, skiers, cyclists, climbers, hikers and anyone else who enjoys the comfort and performance the company's founders discovered more that 15 years ago on those slopes of New England.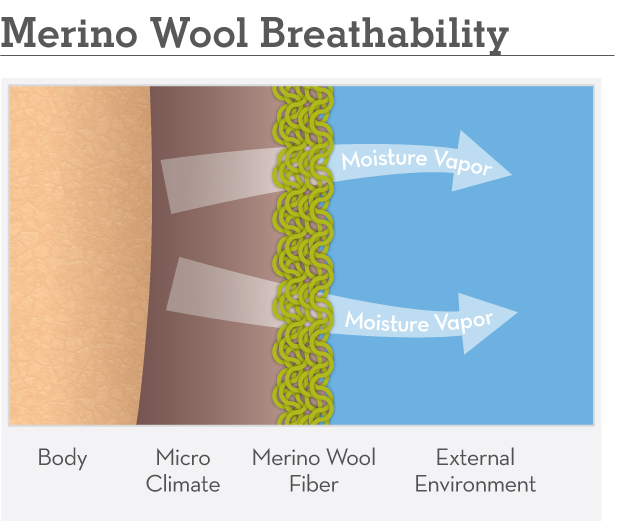 You won't find better gear to keep you comfortable in all conditions than SmartWool, whether you're out tromping in rain, shine, heat or hail. It's the best fiber in the world for cold and warm, wet and dry weather use, combining comfort and performance into one versatile package.

Above all else comes the extraordinary comfort; far from the itchy wool of yesteryear, SmartWool's fibers are luxuriously soft. They come from New Zealand's specially bred Merino sheep, whose super-fine fibers are as fit for pajamas as they are active-wear. Combine this with a production process that removes all itch and shrink and you get a layer you'll never want to take off – even after the day's journey brings you home. But extraordinary comfort is only the beginning, this real tale lies in the fibers' performance. Over the eons SmartWool's fibers have evolved to keep our Merino sheep warm in the alpine winters and cool in the southern summers. This same natural temperature regulating process works for people as well. The secret is that each fiber harbors thousands of tiny air pockets which, like insulation in your home, act as a buffer against heat and cold. The fibers naturally regulate temperature, whether you're climbing an 8,000 meter peak or running an Arizona marathon. They keep you warm when it's cool and cool when it's hot. The fibers also move moisture faster than any other material on the planet. This means you stay drier longer and can say goodbye forever to the clamminess that comes from other materials. Unlike synthetics, which have to wait for moisture to condense before wicking it away from your skin, SmartWool's fibers are porous, allowing them to absorb vapor and transfer it before it condenses. This saves a step by letting them wick and evaporate moisture at the same time, transporting it in both liquid and vapor stages. When it's hot, this creates a mini air-conditioning unit next to your skin, transferring body heat to your apparel.
The bacteria that cause odor can't build up on the SmartWool fiber. This means that even during intensive activity over extended periods of time you stay "fresher for longer". The science is very simple; in fact this is how odor comparison tests are conducted by many major research facilities. Wear a synthetic sock on one foot, a SmartWool sock on the other. Do this for 48 hours (go cycling, hiking, bouldering for a proper test). Let your nose be the judge (careful though, the smells from the synthetics can be quite alarming.)
SmartWool stays busy establishing better business practices that focus on environmental sustainability, economic sustainability, improvement in animal welfare and social change.



The SmartWool Advocacy Program was born out of the desire to give back to communities in which we live, work and play. 10% of SmartWool online sales go directly to this program.



SmartWool has established long-term partnerships with those New Zealand Merino growers that have adopted best management practices and seek to continually improve animal welfare.



SmartWool and its New Zealand partners have developed Zque, the world's first traceable Merino fiber value chain. This program ensures environmental, social and economic sustainability.

| | | | |
| --- | --- | --- | --- |
| | | | |
| Wicks moisture | | | |
| Absorbs moisture | | | |
| Moisture evaporates so inside of shoe stays dry | | | |
| Insulates so feet stay cool in simmer, warm in winter | | | |
| Maintains cushioning | | | |
| Blister resistant | | | |
| Fungus resistant | | | |
| Stink resistant | | | |
| Machine washable and dryable | | | |
| No fabric softners required | | | |
| Environmentally friendly | | | |
| No shrink | | | |

SmartWool socks are designed to enhance the performance and comfort that each activity demands. The top has ribbed construction that holds the sock up and in place. The instep is flat knit or waffle knit minimizes bulk and improves ventilation. The side panel improves airflow and eliminates bunching. The arch brace provides support and holds socks in place. The sole and varieties of cushioning eliminate shock, blisters and abrasions.

Fitted heel and toe sock that rises to just below the ankle

Fitted heel and toe sock that rises 6"-8" above the ankel

Fitted heel and toe sock that rises 2" above the ankle

Fitted heel and toe sock that extends to mid-calf

Fitted heel and toe sock that rises 4"-6" above the ankel

Fitted heel and toe sock that extends above the calf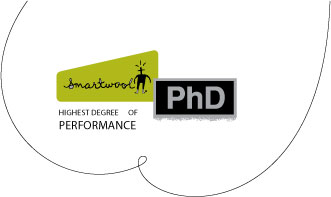 What's smarter than SmartWool?
THE MAGIC OF MERINO
The heart and soul of SmartWool comfort begins with the Merino wool fibers used. Naturally sustainable, odor free and moisture controlling, they're inherently more comfortable and higher performing than our synthetic brethren. It's what SmartWool does with these fibers however, that takes SmartWool socks to the next level of innovation and makes SmartWool socks extraordinarily comfortable.

SmartWool's new WOW (Wool-on-Wool) Technology™ puts more SmartWool into every sock, particularly in high-density impact zones to reduce shock, and in high-wear areas for greater longevity. More SmartWool means more odor control, more moisture management, & more feel-good performance!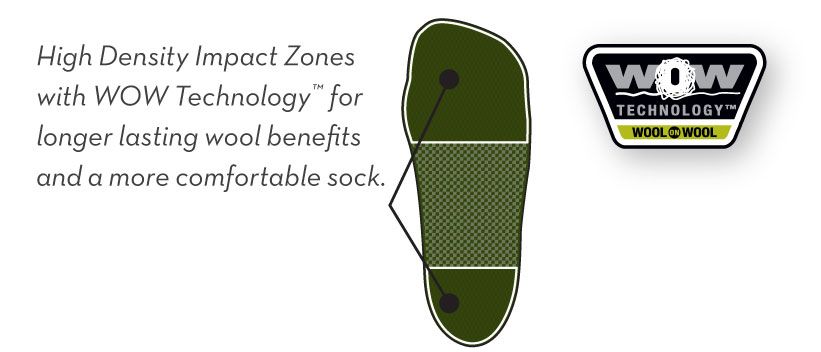 SmartWool's new WOW (Wool-on-Wool) Technology™ puts more SmartWool into every sock, particularly in high-density impact zones to reduce shock, and in high-wear areas for greater longevity. More SmartWool means more odor control, more moisture management, & more feel-good performance!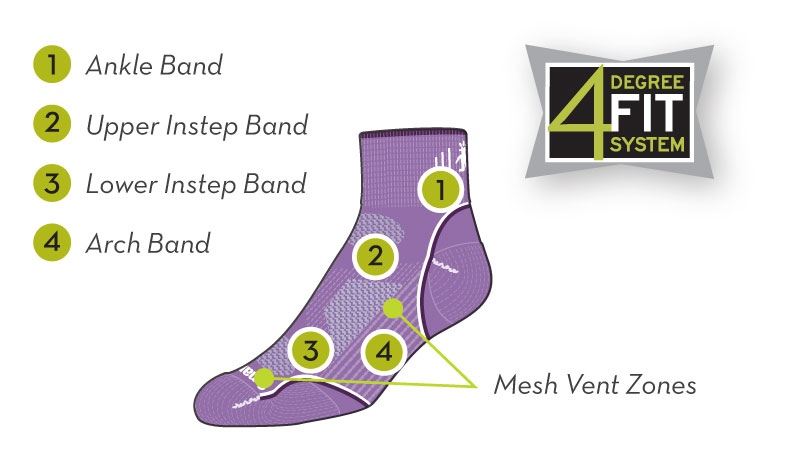 Our SmartWool Graduated Compression socks combine performance-enhancing benefits of Merino wool with recovery-enhancing compression technology. It's the perfect combination to create a sock that will keep you outside doing what you love...every day.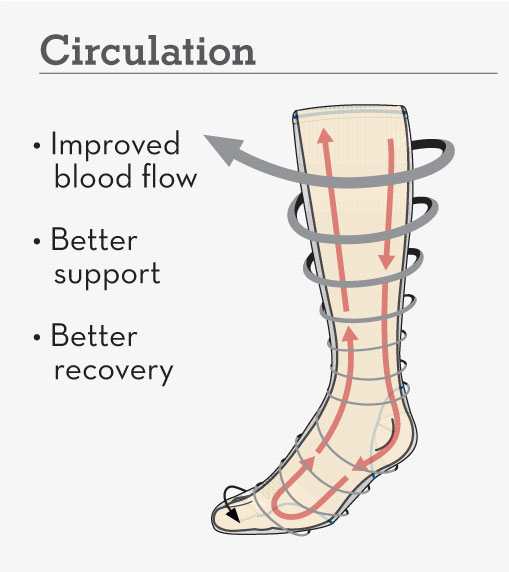 - Temperature regulation: Helps your body maintain a stable core body temperature minimizing lactic acid build-up
- Stable heart rate: Your body doesn't have to work as hard to keep you warm when it's cold and cool when it's warm
- Improved blood flow: Oxygenated blood and nutrients return to muscles faster to help muscles rebuild and repair
- Less Lactic acid: Lactic acid is efficiently flushed from the lower legs providing relief from muscle soreness
- Reduced Swelling: Reduces the fluid build-up that can impede the recovery process
Performance socks – five sport-specific silhouettes and five levels of cushion give you 25 comfortable reasons to split out of work early and celebrate the outdoors. Choose the style that provides the balance of protection and sensitivity you want. SmartWool's SmartFit system delivers a technical fit every time. Naturally breathable, itch- and odor-free, SmartWool is comfortable season-in and season-out.

| | |
| --- | --- |
| | SmartWool's original technical fit system has contour flex zones to allow foot and sock to flex without bunching, a brace that hugs the ankle to eliminate slipping and binding, and an arch brace that holds the sock in place and provides additional support. |
Five different levels of cushion to suit your customers' fit and sport preference:
Ultra-Light

Light

Medium

Heavy

Extra-Heavy
Compression
Hiking

Trekking

Hunting

Running
Cycling
SmartWool and BlueRiver Trading are the proud sponsors of: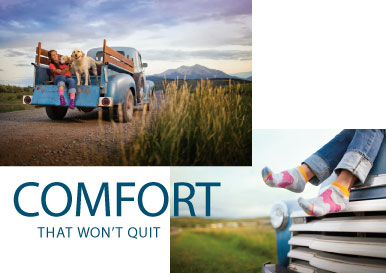 Most of what we love in life is accomplished while standing up. Bottom line – celebrate life and indulge your feet with SmartWool's Lifestyle sock line. SmartWool has built in comfort, all-day support, its distinctive attitude, and reliable SmartWool performance into its lifestyles.

Best of all, SmartWool has added state-of-the-art Technology™ to our Lifestyle socks. WOW Technology™ puts more wool in high-abrasion areas, which means more comfort and more durability.


There's no dress code for sitting around the campfire or getting after it on your bone chilling, early morning bike commute, but there is a common denominator when it comes to comfort.
SmartWool Next-to-Skin Baselayers and Thermal Midlayers are the end-all-be-all when it comes to performance apparel that feels as good as it looks. Designed to be the perfect layer no matter what the activity, each individual piece works great on its own, and even better together.
SmartWool layers will make sure you're always ready for whatever the trail holds ahead.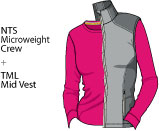 SmartWool Next-to-Skin Baselayers are minimalism at its best. They are designed with cross-functional styles in a variety of fabric weights and innovative construction that maximize the benefits of Merino by getting as close to your skin as possible.
Our baselayers are a high performance, light foundation for layering, or the ideal "one-piece-does-all" on the warmer days.
Made to move and designed to pull away unwanted moisture and heat, our NTS Microweight Baselayer Tee or Crew worn with a TML Mid Vest is the perfect combo for a cool morning run. They work in unison to provide no bulk breathability for flexible, effortless comfort control.
Whether it's over the summit or through the woods, our NTS Microweight Baselayer Tee paired with a TML Light Full Zip jacket is the smart combo to stay comfortable in all stages of activity or when temperatures fluctuate throughout the day, especially when you're out for the long haul.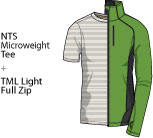 Engineered specifically for mountain athletes and the varying climates of their mountain adventures, SmartWool Thermal Midlayers are the natural choice for year-round warmth, without additional weight...or BULK. Meaning, they pack down tight and have the ability to go wherever you do, making these the perfect alternative to a bulky fleece.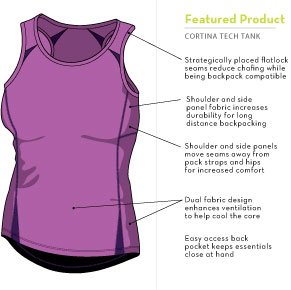 The new SmartWool Trail Collection was designed to keep wearers more comfortable no matter where the trail may be.Smart designs maximize the Merino wool benefits while also offering trail worthy style. The thoughful features give complete comfort and freedom in the activities you love, so you can do them longer.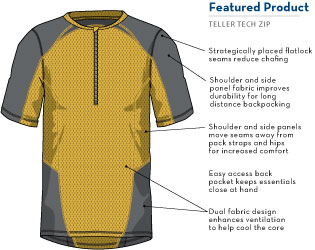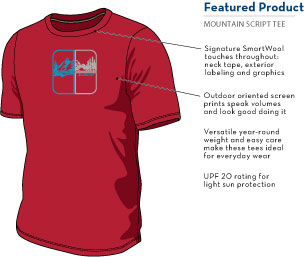 Creating the perfect tansition from Mountain Sport to Mountain Life, the new
SmartWool
T-shirt Collection combines uncompromising comfort with rugged, everyday good looks.
Don't be surprised at how quickly they become the "go-to" shirst you reach for every morning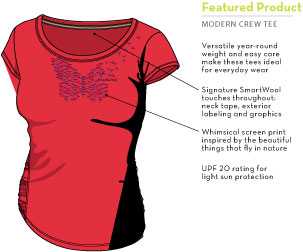 www.SmartWool.com